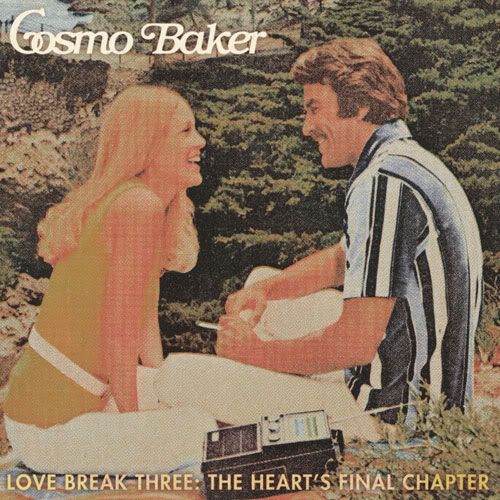 I try to keep my content as exclusive as possible, by which I mean mixes that either I have done or a close friend has handed to me. This way I dont have post here that you can see on 100 other blogs, but every now and then I make an exception, and this mix, this is one of those times!

COSMO BAKER "LOVE BREAK THREE -

The Heart's Final Chapter
Love's Intro
Ace Spectrum "I Don't Want To Play Around"
Banks & Hampton "I'm Gonna Have To Tell Her"
Major Harris "I Got Over Love"
New Birth "It's Been A Long Time"
Eddie Holman "It's Over"
Black Ivory "(It's) Time To Say Goodbye"
Marvin Gaye "Anger"
Top Shelf "Let Them Keep On Talking"
Lloyd Price "What Did You Do With My Love"
Jerry Butler "No Money Down"
The Moments "Love On A Two-Way Street"
Steve Parks "Still Thinking Of You"
Solomon Burke "Everlasting Love"
Clay Hunt "(I'm Claimin') FInders Keepers"
Angela Winbush "Angel"
The Isley Brothers "Ain't I Been Good To You"
Sweet Blindness "Ain't No Use"
Billy Stewart "Cross My Heart"
The Delfonics "Trying To Make A Fool Out Of Me"
Freddie Hughes "Sarah Mae"
The Three Degrees "Collage"
Nancy Wilson "I'm In Love"
Patrice Rushen "Where There Is Love"
Joann Garett "It's No Secret"
Bobby Womack "Woman's Gotta Have It"
Smokey Robinson & The Miracles "A Legend In It's Own Time"
Ben Vereen "I'll Keep A Light In My Window"
Teddy Pendergrass "I'll Never See Heaven Again"
Diana Ross "One Love In My Lifetime"
Brothers By Choice "Baby, You Really Got me Going"
Mary Wells "Two Lovers History"
Love Break Three - The Heart's Final Chapter by cosmobaker